DREAM MAGICK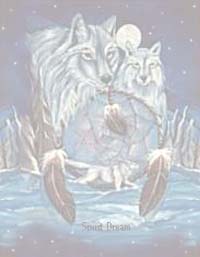 SPELLS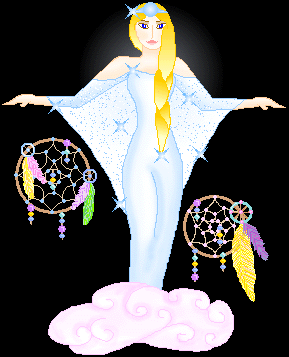 This is Gossamer she is the guardian against bad dreams! Click on her picture to take you to Amanda's Guardians to adopt one of your own!





TO DREAM OF PAST LIVES
Wearing an opal to bed or sleeping with one under your pillow works well for inducing dreams of prior incarnations.






TO RECALL A DREAM
To remember dreams, place red jasper on your headboard or nightstand before falling asleep.


TO DREAM OF TRUE LOVE
Tuck 5 bay leaves in your pillowcase on Valentines Day to dream of your true love.







DREAM SPELL
Items needed:
Lock of hair yours and the ones you wish to dream of
Amethyst stone
1 Rose petal
If you want the person to dream of you place both locks of hair on the amethyst and say: I wish (name of person) to dream of me this night!






SENDING A DREAM
Needed 8 candles Set each candle at
N, NE, E, SE, S, SW, W, NW
A picture of the person you wish to send the dream to.
Concentrate on the picture of the person you want to cast upon. Think of what will occure in the dream. Then let the candles burn themselves out.
For candles use Black-For evil dream (keep in mind the law of 3)
Red-Lust
Pink-Love
White-Goodness


SENDING A DREAM OF LOVE
Before you go to sleep, face west holding a crystal (Jade, Rose Quartz, or Amethyst) Raise only a small amount of energy and shape it into a pink ball while invoking the goddess. Then say:
Holy Goddess of sweet love
Mighty Goddess of subtle strength
Aid me this romantic night
Send him/her a dream of us
Let the ball of energy meld into the crystal and channel it. Visualize the forehead of your lover glowing with a soft pink light as you envison you and your beloved in a romantic situation. Seal with a pentagram. Anoint your brow, heart and throat chakras with Eucalyptus Oil and keep the crystal near your bed. Repeat for three nights in a row.






TO OVERCOME NIGHTMARES
Place a small wood carving of a bear underneath your pillow and say over it:
Bear of great wisdom
Take away the nightmare madness
And bring deep slumber in its place

DREAM SPELL
(BY BLACK MOON DOLPHIN)
Before you go to bed, cover yourself completely under the sheets except for one arm or hand. With that hand spray some perfume or air freshener, into the air above the sheets and above your body. After doing so uncover your head and breath in the good fresh scent. After a few moments chant:





Mother goddess Mare, bringer of dreams good and bad
Bless your childs sleep with good dreams so that I might have
A peaceful day and night
So mote it be!

TO HAVE DREAMS OF THE DECEASED
Needed:One white candle
A picture of the deceased
A pentagram
Light the white candle and stare intot he flame for a few minutes, then put the picture at eye level and say:

You are gone forever
But through this spell
My dreams to which
You will come
Place the picture under your pillow. Let the candle burn to a stub, then blow it out, and place under your pillow also. Sleep with it for 3 nights to receive the dreams you asked for.






A DREAM PILLOW
Get some silk or cotton (only pure fibre, no blends unless cotton linen, or silk linen, or cotton silk) Sew it into a pillow shape (whatever shape you like) The best color is royal blue. Fill this pillow with the following herbs.





Cinnamon
Clove
Orris
Rose
Saffron
Flax Seed
Add these essential oils
Lemongrass
Marigold
Orange
Lemon
Now sew the pillow closed. If you wish you could pass the pillow through some psychic awareness incense made from Frankincense, Myrrh, Cedarwood and Lavender. While passing the pillow through the smoke visualize yourself waking up in the morning having remembered very important dreams.