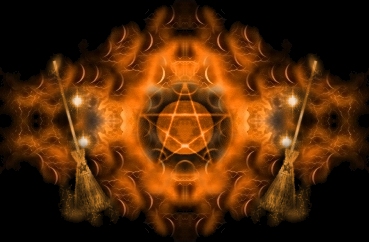 DAYS TO CAST YOUR SPELLS
There are times when we all the help we can get to work a spell properly, at
least I do ! So knowing which days are favorable to cast certain spells is a good
thing. Of course you don't have to use these days if it is an emergency, but try
to stick to the schedule if it isn't.

MONDAY
Ruled by the Moon,
Colors:White,Silver,Grey
Workings:Reconcilliations,Travel,Animals,Female Fertility
Herbs & Oils:African Violet,Honeysuckle,Willow,Wormwood
TUESDAY
Ruled by Mars, color red
Workings:Courage,Strength,Break Negative Spells
Herbs&Oils:Dragon's Blood, Patchouli
WEDNESDAY
Ruled by Mercury, color purple
Workings:Communication,Divination,Writing
Herbs&Oils:Jasmine,Lavender,Sweetpea
THURSDAY
Rules by Jupiter, color blue
Workings:Luck,Happiness,Health,Wealth
Herbs&Oils:Cinnamon,Musk,Nutmeg,Sage
FRIDAY
Ruled by Venus, color green or pink
Workings:Love,Friendship,Sexual Matters
Herbs&Oils:Strawberry,Sandalwood,Rose
SATURDAY
Rules by Saturn, color black or gray
Workings:Spirit Communication,Lost Items,Missing Persons
Herbs&Oils:Black Poppy Seeds, Myrrh
SUNDAY
Ruled by the Sun, color gold or yellow
Workings: