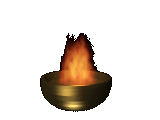 COMPUTER SPELLS
(Can't promise you won't get booted but these may help!)



To Protect Power Flow
To help against power interupts and surges, place a Quartz
crystal near the electric outlet used to plug your computer.






General Computer Protection
Turn the computer on and throughly cleaning off all dust.
While you clean chant:





Earth and wind and fire and sea
Moon and sun; all hear my plea
Communication deities
All come forth and present be
Join in forces and protect
All data, pixels and connects
Then weave a web both tight and sound
To stave of crashes this way bound
Protect my software from all harm
And hardware too, from raging storm
Please guard it well from others tricks
Like Loki's jokes and Murphy's tricks
Stamp out virus and disease
So data flows to me with ease
To my aid oh ancients come
Protect by moon and shining sun!


Charm To Increase Modem Speed
For speeding modem, upload and download time, try placing a
piece of Tiger's Eye on top of external modems, and for internal
modems place it on top of the pcu.






Copyright By Jesse Anderson
All Rights Reserved
1999-2001