STORY OF A CHRISTIAN WITCH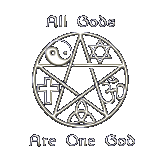 THE STORY OF A CHRISTIAN WITCH
I GREW UP IN THE PROTESTANT FAITH, ALTHOUGH I NEVER ATTENDED THE CHURCH. I WOULD WATCH THE NEWS AND SEE THE FIGHTING BETWEEN CATHOLICS AND PROTESTANTS IN IRELAND, KILLING IN THE NAME OF GOD. I NEVER FELT I COULD TRULY BELONG TO ANY SET RELIGION (CATHOLIC, PROTESTANT,METHODIST ECT.)
NOT AFTER WATCHING THEM KILL ONE ANOTHER IN THE NAME OF GOD, WHO'S FIRST COMMANDMENT WAS "THOU SHALT NOT KILL" SOMEHOW THIS REALLY WASN'T WORKING FOR ME!

AS A CHILD I WAS ALWAYS FASCINATED BY THE OCCULT, AND WOULD WATCH ALL THE SHOWS I COULD FIND ON THE SUBJECT OF GHOSTS AND WITCHES! THE ONLY THING WAS I WAS TERRIBLY DISAPPOINTED BY WHAT I HAD FOUND, ESPECIALLY ON WITCHCRAFT. BACK IN THE 1960s AND 1970s WITCHCRAFT WAS STILL A TABOO SUBJECT TO TALK ABOUT, AND WHAT LITTLE BOOKS I COULD FIND WERE NOT OVERLY HELPFUL! MOST OF THEM HAD OVERT TONES OF BLACK MAGICK, AND AT THAT TIME MY CHRISTIAN BACKGROUND WAS AT WAR WITH THE FEELINGS I HAD TOWARD WITCHCRAFT.

AS I GREW OLDER, MARRIED AND HAD CHILDREN, I TURNED COMPLETELY AWAY FROM WITCHCRAFT, AGAIN THINKING WELL I DON'T WANT MY SONS INVOLVED IN THIS. SO THAT WAS MY FIRST BIG MISTAKE! I STAYED COMPLETELY AWAY FROM THE SUBJECT OF WICCA AND ANYTHING RELATED TO IT AND GAVE MY SONS A CHRISTIAN BACKGROUND, WHICH I DO NOT REGRET DOING. THEN LAST WINTER I BECAME VERY ILL, ALL MY DREAMS WERE OF BLACK DESERTED STREETS, NO LIGHT FROM ANYWHERE, AND ALTHOUGH I KNEW WHERE I WAS IN THE DREAM, I WAS ALWAYS TOO FAR FROM HOME. STANDING IN A CROSSROAD, LOOKING AHEAD TO WHERE I LIVED, TOO FAR AWAY TO WALK, BEHIND ME WHERE MY PARENTS LIVED, AGAIN TOO FAR TO WALK, THE OTHER DIRECTIONS LEAD NO WHERE. I HAD THIS DREAM SEVERAL NIGHTS. WHEN I WAS WELL AGAIN, IT WAS AS THOUGH I REALIZED WHAT I HAD DONE TO MYSELF, BY CUTTING MYSELF OFF FROM THE PERSON I TRULY WANTED TO BE, A WITCH. IT WAS THEN THAT I BEGAN TO UNDERSTAND HOW TO PUT MY CHRISTIAN BACKGROUND TO GOOD USE WITH MY "OTHER HALF"


AS I BEGAN TO READ AGAIN ON THE SUBJECT OF WICCA AND GATHER AGAIN ALL THE THINGS I USED TO HAVE, I HAD ANOTHER DREAM. THIS ONE IS PAINFULLY OBVIOUS (LOL) I WAS CLIMBING A VERY STEEP HILL, I HAD TO GET TO THE TOP, I HAD NO IDEA WHY I JUST KNEW IT WAS IMPORTANT. WHEN I FINALLY REACHED THE SUMMIT, I CAME FACE TO FACE WITH WHITE WOLF WITH THE MOST AMAZING CRYSTAL BLUE EYES! THERE WAS NO COMMUNICATION, JUST LOOKING AT EACH OTHER FOR A MOMENT, THEN I TURNED AND WENT BACK DOWN THE HILL, ONLY TO FIND THAT I HAD TO GO THROUGH SEVERAL DIFFERENT PORTALS, FOR LACK OF A BETTER WORD. THROUGH EACH ONE, I RETURNED HOME, BUT EACH TIME THE PORTAL GOT SMALLER AND EACH DIMENSION WAS JUST SLIGHTLY ALTERED FROM THE PREVIOUS ONE, UNTIL FINALLY GOING THROUGH HE PORTAL FOR THE LAST TIME, THE HOLE BEING VERY SMALL I MADE IT TO THE WORLD I BELONGED IN! WAKING UP AFTER THAT DREAM LEFT ME WITH NO DOUBT ABOUT THE PATH I FELT COMPELLED TO FOLLOW.

IN MY MIND, GOD GAVE ME A BRAIN TO USE. AS WE ONLY USE A SMALL PORTION OF THAT BRAIN, SO I BELIEVE THAT ANOTHER PART, WHERE WE CAN USE ENERGY TO MAKE CHANGES GOOD OR BAD, MAGICK, HAS TO COME PARTLY FROM OURSELVES AND PARTLY FROM THE WORLD AROUND US. IF HE DIDN'T WANT US TO UTILIZE WHAT WE HAVE HERE ON EARTH, I DON'T BELIEVE HE WOULD OF GIVEN US THE ABILITY TO USE IT. I JUST CANT PICTURE GOD, AS I SEE HIM AS A LOVING GOD NOT A THREATENING FIGURE, SAYING "WELL I HAVE PUT ALL THIS BEFORE YOU, BUT UNDER NO CIRCUMSTANCES ARE YOU TO USE IT!" NOR DO I BELIEVE THAT IF YOU DO NOT BELIEVE IN THE SAME GOD AS I DO THAT HE WILL SEND YOU TO HELL FOR IT. GOD WHEN HE JUDGES,DOES SO ON THE BASIS OF THE GOOD KIND AND CARING ACTS YOU HAVE DONE IN YOUR LIFETIME. HE DOES NOT SEND YOU TO HELL FOR MISTAKES YOU MIGHT MAKE. WE ARE HUMAN AND WE ARE NOT PERFECT, HE WONT JUDGE US ON THAT. HOW ANYONE COULD BELIEVE THAT I WILL NEVER UNDERSTAND, FOR TO BELIEVE THAT WOULD MEAN THAT ALL RACES BEFORE CHRISTIANITY CAME INTO BEING HAD TO BE DAMNED. GOD WOULDN'T DO THAT, BUT MEN WOULD PREACH THAT! ANYTHING TO KEEP CONTROL OF THE PEOPLE AND MAKE THEM BELIEVE THAT THE CHRISTIAN GOD IS THE ONLY GOD AND IF YOU DON'T BELIEVE IN HIM WELL THEN GUESS WHERE YOU WILL END UP!!

LIFE IS A CIRCLE TO REPEAT AGAIN AND AGAIN UNTIL WE GET IT RIGHT, GOD ALWAYS GIVES A SECOND CHANCE, AND A THIRD IF NECESSARY. WE ALL KNOW THE DIFFERENCE BETWEEN RIGHT AND WRONG, ITS THE CHOICES WE MAKE THAT WILL DECIDE WHAT OUR FUTURE WILL BE, NOT WHAT OTHER MEN OR WOMEN WANT TO DECIDE FOR US.

LATELY AS I HAVE BEEN SURFING DIFFERENT WICCAN AND PAGAN SITES I HAVE COME ACROSS SEVERAL SITES THAT DISAPPOINTED ME. I WENT TO A LOVELY WICCAN SITE, AND READ THEIR GUEST BOOK AND FOUND SEVERAL HATE LETTERS THERE FROM CHRISTIANS. IT IS DISAPPOINTING TO FIND OTHER CHRISTIANS BEING SO INCREDIBLY NARROW MINDED. THEN AGAIN I HAVE COME ACROSS PAGAN SITES WHICH IN TURN DO THEIR OWN CHRISTIAN BASHING. ALSO A LOT OF PAGAN SITES DON'T ACCEPT CHRISTIAN WITCHES CITING THE BIBLE. TO THEM WE ARE A JOKE, BUT I AM NOT GOING TO BASH WHAT THEY BELIEVE, AND I WOULD SINCERELY APPRECIATE IT IF THEY DID NOT BASH WHAT I BELIEVE!

THE GNOSTICS WERE CHRISTIANS THAT DEALT WITH MAGICK, GRANTED THESE PEOPLE WERE FANATICS AND DANGEROUS, BUT IT IS A BEGINNING OF WHERE CHRISTIANS LEARN MAGICK AND STILL RETAIN THEIR BELIEF IN GOD. NOW I ALSO BELIEVE IN THE GODDESS, YEAH I KNOW ITS CONTRADICTORY, BUT SHE IS AS MUCH A PART OF ME AS GOD IS, AND TO THOSE THAT DON'T LIKE THAT, THEN DON'T COME BACK TO MY PAGES. I WONT WRITE IN YOUR GUEST BOOKS ANYTHING DEROGATORY ABOUT YOUR BELIEFS IN FACT WHEN I SIGN A BOOK I PRAISE YOUR BELIEFS.


BASHERS COME IN ALL RELIGIONS, CHRISTIAN, WICCAN, PAGAN, MOSLEM, JUDAISM, PRETTY SAD WAY TO LIVE IF YOU ASK ME.







VIEW MY GUEST BOOK!


SIGN MY GUEST BOOK!

Copy Right All Rights Reserved
2000-2001
Jesse Anderson