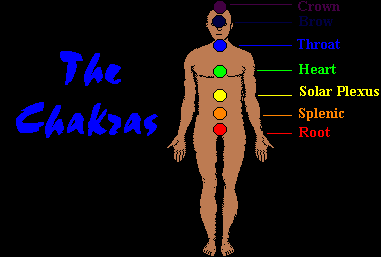 THE CHAKRAS
CHAKRA'S ARE THE ENERGY CENTERS THROUGH WHICH OUR LIFE ENERGY FLOWS. WHEN DOING MAGICK OR RITUALS WE NEED TO OPEN THESE CENTERS IN ORDER TO USE THEM FULLY! THIS IS SOMETHING NEW THAT I AM NOW LEARNING, SO AS I LEARN I WILL PUT MORE INFORMATION UP! FOR NOW HERE ARE THE 7 MAJOR CENTERS.







CROWN
CONNECTS YOU WITH MESSAGES OF HIGHER REALMS. CAN BE EXPERIENCED AS A PRESSURE ON TOP OF THE HEAD.







BROW
COMMONLY KNOWN AS THE THIRD EYE CHAKRA.








THROAT
TIED TO CREATIVITY AND COMMUNICATION. FEELS PRESSURE WHEN YOU ARE NOT COMMUNICATING YOUR EMOTIONS PROPERLY.







HEART
BLOCKAGE CAN MANIFEST AS IMMUNE SYSTEM PROBLEMS OR HEART PROBLEMS, OR A LACK OF COMPASSION.








SOLAR PLEXUS
SEAT OF ALL EMOTIONS. GIVES US A SENSE OF PERSONAL POWER IN THE WORLD. BLOCKAGE MANIFESTS AS ANGER.








SPLENIC
LOCATED JUST BELOW THE NAVEL, AND RELAXED TO SEXUAL AND REPRODUCTIVE CAPACITY. BLOCKAGE MANIFESTS ITSELF AS EMOTIONAL PROBLEMS OR SEXUAL GUILT.








ROOT
LOCATED AT THE BASE OF THE SPINE. CONTAINS THE PRIMARY 8 CELLS THAT HAVE ALL OF THE KNOWLEDGE OF CREATION AND REMAIN THE ONLY CELLS IN YOUR BODY THAT DO NOT CHANGE IN YOUR LIFETIME. IT GROUNDS US TO THE PHYSICAL WORLD.






Using Gem Stones and Chakras to Heal
You will need a jar with a lid and pure spring water for this. You will take a stone and charge it for the appropriate healing need. Then put the stone in the jar filled with spring water and allow it to sit in the sun for at least 3 hours. When done, sip the water slowly until finished.


| | | | |
| --- | --- | --- | --- |
| Chakra | Color | Stone | Use |
| Sacral | Orange/Red | Bloodstone | Reproductive Organs |
| Navel | Orange | Tiger's Eye or Carnelian | Kidneys and Strength |
| Solar Plexis | Yellow | Peridot or Citrine | Liver and Pancreas |
| Heart | Green | Rose Quartz or Green Jade | Circulation |
| Base | Red | Smokey Quartz or Red Jasper | Legs and Feet |
Remember that magick is NOT a substitute for Medical Help!








email me at: jesseanderson0@yahoo.com

© Copyright By Jesse Anderson
All Rights Reserved