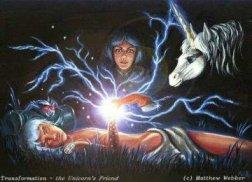 REMOVING A SPELL OTHERS PUT ON YOU



BREAKING A SPELL PUT ON YOU
Get a white candle and put it in a holder. Place the holder in the middle of your
cauldron (or whatever you use for one) Fill the cauldron with water so that the
candle is above the rim of the cauldron and above the water. Light the candle
and visualize the spell being broken. As soon as the flame burns down and
touches the water it will go out. Dig a hole in the earth and pour the water in
and bury the candle.


When someone places a hex on you here are two ways to send it back. I
realize this doesn't happen to often, but it is always better to be prepared!

TO RETURN A HEX
Chant these words:
Spell, spell, spell begone
Back to which ye belong
Back to the caster
Take your disaster

ANOTHER WAY TO RETURN A HEX
Chant the following words:
Thinking of me
But just the same
Return this spell
From whence it came
Upon my safety I do hold
Send back the damage return threefold!
(CHRISTINE WEST)


BREAKING THE EFFECTS OF A SPELL
This spell is used to break a spell that you cast yourself and want to stop it.
Choose the first Saturday after the full moon, or when the moon is full itself.
Use one white candle and one black candle and say:

On the eve of __________
I cast a spell
The effects I created
I must now quell
Specifically _________
May this spell be lifted
And I now be gifted
Specifically with ____________
(YOU FILL IN THE BLANKS!)


© Copyright By Jesse Anderson
All Rights Reserved