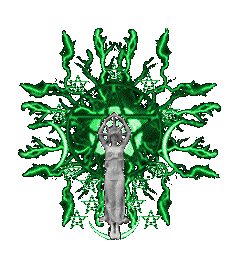 BLENDING HERBS AND OILS
This is another way of using herbs and oils together, depending on the kind of ritual or spell you wish to do. Here I will show you several different blends, but again remember changing is allowed and encouraged to make the blend truly your own!!




ATTRACTION OIL
Worn when you are looking for a mate, anoint your forehead and below your heart and above the navel. This oil will also give you and more magnetic personality if you bathe in it. It will attract good luck if rubbed on the soles of your shoes!





Mix equal parts of:
Lovage herb and grated Lemon peel, or Lemon Flowers
Add
2 Tablespoons of this mixture to 2 oz. of oil
Add a small piece of lodestone if desired.

BANKRUPT OIL
EVER MIND THE RULE OF 3 BEFORE DOING THIS SPELL! THIS BLEND IS USED TO FORCE AN ENEMY TO GO BROKE!





PUT 2 TBLS. OF POWDERED DEVIL'S SHOESTRING IN 2OZ. OIL
RUB THE MIXTURE ON THE DOORKNOB OF THE PERSON YOU WISH TO HARM

CONFUSION OIL
THIS IS USED TO CONFUSE SOMEONE WHO IS TRYING TO HARM YOU!
MIX 2 PARTS RUE, AND ONE PART GUINEA PEPPER
ADD 2 TBLS. OF THIS MIXTURE TO 2 OZ. OIL
THIS MIXTURE CAN BE USED WITH CANDLE MAGICK AND THE APPROPIATE SPELL


COURAGE OIL
ADD 9 DROPS OF THIS OIL TO THE BATHWATER WHEN APPLYING FOR A JOB OR ASKING THE BOSS FOR A RAISE. USE AS A PERFUM ON THE THROAT, BELOW THE HEART AND ABOVE THE NAVEL TO GET RID OF FEARS.

MIX EQUAL PARTS OF GRATED LEMON PEEL OR LEMON FLOWERS
FRANKINCENSE AND MYRRH
USE 2 TBLS. OF THIS MIXTURE WITH 2 OZ. OIL

FRIENDLY JUDGE OIL
USED WHEN DEALING WITH COURTS AND LAWYERS. ADD TO BATHWATER FOR 3 DAYS BEFORE COURT DATE. RUB ON ARMS, BOSOM AND THROAT ON THE COURT DATE. RUB ON FINGERS BEFORE SIGNING ANY LEGAL PAPERS.





MIX TOGETHER 2 PARTS CARNATION PETALS
1 PART ANISE SEED
1 PART CINNAMON
USE 2 TBLS. OF THIS MIXTURE IN 2 OZ. OIL

GAMBLERS LUCK OIL
ANOINT ON CHARMS DESIGNED TO BRING LUCK IN GAMBLING. IT CAN BE RUBBED ON PALMS BEFORE GAMBLING. ANOINT EACH CORNER OF YOUR BINGO CARD BEFORE THE GAME BEGINS. ANOINT YOUR SHOES BEFORE GOING TO THE RACETRACK!





MIX TOGETHER 3 PARTS CINNAMON
1 PART CARNATION PETALS
1 PART ANISE SEED
ADD 2 TBLS. TO 2 OZ. OIL
ADD A SMALL PIECE OF HIGH JOHN TO EACH BOTTLE IF DESIRED

GYPSY BLOOD OIL
SAID TO MAKE TROUBLESOME NEIGHBORS UPROOT AND MOVE WHEN SPRINKLED ON THEIR DOOR KNOBS!





MIX 2 PART OF PATCHOULI LEAVES
1 PART GUINEA PEPPER
USE 2 TBLS. OF THIS MIXTURE TO 2 OZ. OIL

HAPPY HEART OIL
THIS IS AN OIL SAID TO HELP ATTRACT HAPPINESS AND MANY GOOD VIBRATIONS.





2 tlbs. WISTERIA FLOWERS MIXED WITH 2 OZ. OIL


HEALTH ATTRACTING OIL
THIS OIL IS USUALLY ANOINTED ON THE FOREHEAD OF THE ILL.





2TBLS. OF ANY OF THE FOLLOWING HERBS:
ROSE
CARNATION
GARDENIA
GRATED LEMON PEEL OR LEMON FLOWERS
MIX IN 2 OZ. OIL


HOME PROTECTION OIL
ANOIT ON CHARMS DESIGNED TO PROTECT THE HOME FROM EVIL. SPRINKLE AROUND THE HOME TO KEEP EVIL AWAY.

USE EQUAL PARTS OF THE FOLLOWING HERBS:
FIVE FINGER GRASS
SANDALWOOD
GARDENIA PETALS
PURSLANE
ADD 2 TBLS. TO 2 OZ. OIL
ADD ONE PINCH BLESSED OIL

PEACEFUL THOUGHTS OIL
ANOINT FOREHEAD AND TEMPLES WITH THIS OIL BEFORE MEDITATING

USE EQUAL PARTS OF THE FOLLOWING HERBS:
LAVENDER
ROSEMARY
WINTERGREEN
MIX 2 TBLS. TO 2 OZ. OIL

Power Oil
This is used to enhance your own power when doing spells or rituals. Anoint forehead, throat, breastbone and above navel. Anoint charms for psychic and spiritual development.

Mix together in equal parts:
Grated Lemon Peel or Flowers
Frankincense Oil
Add 2 Tbsp. to 2 oz. oil

Seduction Oil
This will seduce anyone you want when used as a perfume. Anoint behind the ears, under the left armpit, back of neck and between thighs.

2 Tbsp. Clove in 2 oz. oil
You can add a piece of Verbana root, said to make passions rise fast!

Stay No More Oil
Said to keep a lover or spouse faithful. Use in mates bathwater, anoint on soles of your lovers shoes, sprinkle on bedsheets.

Mix 2 Parts Spikenard
1 Part Lavender Flowers
1 Part Herbamate
2 Tbsp. to 2 oz. oil

Good Luck Oil
1 Tbsp. Dried Wormwood
3 Tsp. Ground Nutmeg
1/2 Tsp. Dried Mandrake
13 Drops Pine Oil
1/4 Cup Olive Oil

Spirit Oil
1 Tbs. Powdered Orris Root
1 Tbs. Dried Solomon Seal
1 Tbs. Dried and Crushed Rosemary
1 small pinch Jade Powder
3 drops Sandalwood Oil
3 Drops Mint Oil
1/4 cup Safflower Oil

Voodoo-Witch Oil
3 Tbs. Honey
3 Tsp. Powdered Bat Skulls (ewww)
13 Drops of Blood
6 Drops Honeysuckle Oil
3 Drops Patchouli Oil
1/4 cup Sunflower Oil

Blessing Oil
1 Part Juniper Oil
1 Part Jasmine Blossoms
9 Drops Jasmine Oil

Protection Oil
1 Dram Patchouli Oil
1 Dram Frankincense Oil
1 Dram Myrrh Oil
1 Tsp. Broken Mandrake Root
3 Heaping Tsp. Sea Salt

Faery Oil
1 Garnet crushed
1 Dram Dragon's Blood Oil
Coriander Seeds
(warm over low heat)

© Copyright By Jesse Anderson
All Rights Reserved