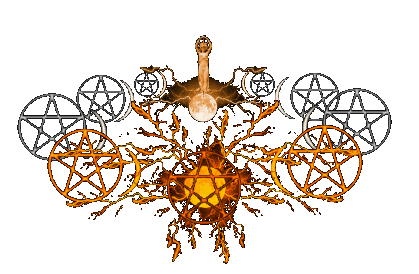 BINDING SPELLS

To Keep Him From Hurting Himself
( SOME PEOPLE HAVE SELF-DESTRUCTIVE TENDENCIES, THIS SHOULD HELP)

MAKE A POPPET OF THE PERSON YOU WISH TO HELP. TAKE A LENGTH OF WHITE
RIBBON AND BLESS IT WITH CLEANSING AND CLEARING INCENSE. BLESS THE
POPPET WITH BLESSING OIL. NOW WITH THE SILK RIBBON, BIND THE POPPET
3 TIMES SAYING:
MY WILL UNTO THEE, YOUR FRIENDSHIP TO ME
I BIND YOU FROM HARM, BY USING THIS CHARM
THREE TIMES THREE
THIS IS MY WILL
SO MOTE IT BE
HIDE THE POPPET AWAY. NOW YOU WILL BE KARMICALLY BOUND, BUT AT
LEAST HIS SPIRIT WILL BE HEALED!

To Bind A Troublemaker
Best time: Waning Moon
SITUATE THE CAULDRON BETWEEN 2 BLACK CANDLES, WITH A THIRD BLACK
CANDLE OPPOSITE YOU ON THE FAR SIDE OF THE ALTER. BURN A PROTECTION
OR BINDING INCENSE. HAVE THE NAMES OF YOUR ENEMIES WRITTEN ON A
SMALL PIECE OF PARCHMENT PAPER (OR FINE WRITING PAPER) IF THE NAMES
ARE UNKNOWN, MERELY WRITE "ALL MY ENEMIES" SPRINKLE BASIL AND ELDER
FLOWERS INTO THE CAULDRON AND SAY:
BUBBLE BUBBLE, CAULDRDON BUBBLE
BURN THE EVIL, DESTROY THE TROUBLE!

IGNITE THE PARCHMENT FROM THE CENTRAL CANDLE AND DROP IT INTO THE
CAULDRON. TAKE UP THE WAND AND STIR THE AIR ABOVE THE CAULDRON
WHILE CHANTING:
DARKNESS ENDED, CONTROL IS DONE
LIGHT HAS COME, MY BATTLE IS WON

To Stop Someone From Harrassing You

USE THIS ONLY AS A LAST RESORT!

NEEDED: GLASS JAR WITH A LID, NAILS OR PINS, PIECE OF PAPER,
1.PUT NAILS/PINS IN GLASS BOTTLE
2.WRITE THE NAME OF THE PERSON ON THE PAPER AND PUT IN THE JAR WIH
THE NAILS/PINS
3.FILL THE JAR WITH EARTH
4.GO OUTSIDE AND BURY IT WHILE CHANTING:

OUT OF MY LIFE
FOREVER STAY AWAY!


Another Binding Spell

WRITE THE NAME OF THE PERSON YOU WISH NOT TO HARM YOU ON A PIECE OF
PAPER. NOW STARE AT THE PAPER AND VISUALIZE THAT PERSONS FACE
UNTIL YOU CAN SEE IT IMPRINTED ON THE PAPER. THEN FOLD THE PAPER
THREE TIMES AND TIE IT WITH A BLACK THREAD OR STRING. PLACE IT IN A
SMALL AIR-TIGHT CONTAINER. FILL THE CONTAINER WITH WATER, AND
PLACE IN THE BACK OF THE FREEZER WHERE IT WONT BE DISTURBED SAYING:
STAY THERE AND FREEZE
FOR AS LONG AS I PLEASE
This should be done during the waning moon.

Binding Spell
(Raymond Buckland)

This spell should be used to stop someone from giving away a secret. It is
a form of sympathetic magick. You will need a poppet, either of wax or
cloth. Also you will need a 21 inch piece of red silk, you use this thread to
sew the dolls mouth closed, when that is done take the remaining thread
and wrap it around the doll, while doing this concentrate on the fact that
this person will never be able to tell the secret, when done put the doll in
a piece of white cloth and put somewhere safe, as long as it is put away
this person will not be able to tell the secret.
© Copyright By Jesse Anderson
All Rights Reserved