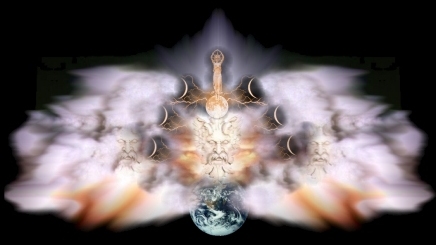 BATH SALTS
The basic ingredients to make bath salts are, Epsom Salts,
baking soda, table salt. Use them in the following
proportions.
3 Parts Epsom Salts
2 Parts baking soda
1 Part table salt
Essential oils (your choice)
Food coloring
Mix your salts thoroughly by either using your hands or a spoon.
Add the food coloring a drop at a time until you have the color
you want.
Now add the essential oil, choose an oil that fits the purpose of
your spell. The stronger the scent the better!
Add 2 tablespoons to a half cup of the bath salts to the tub then
relax and enjoy your bath








ENERGY BATH
3 Parts Carnation
2 Parts Lavender
2 Parts Rosemary
2 Parts Basil
Use when tired or depressed

PSYCHIC BATH
3 Parts Lemon Grass
2 Parts Thyme
2 Parts Orange Peel
1 Part Clove
1 Part Cinnamon
Use before doing any psychic awareness exercises

LOVE SALTS
COLOR: PINK
3 Parts Rosemary
2 Parts Lavender
1 Part Cardamon
1 Part Jasmine

DIVINE SPIRITUAL SALTS
COLOR:PURPLE
4 Parts Sandalwood
2 Parts Myrrh
1 Part Frankincense
1 Drop Cinnamon

HEALING SALTS
COLOR: DARK BLUE
3 Parts Niaouli
2 Parts Eucalyptus
1 Part Sandalwood

PROTECTION SALTS
COLOR: WHITE
3 Parts Rosemary
2 Parts Frankincense
1 Part Lavender

Now here is a simpler way to make bath salts! Depending on how
large a mixture you want to make, use 3 parts epsom salts, one
part table salt and one part baking soda. Mix with your hands,
that way your energy will be in it from the beginning. Separate the
mixture into small bowls. Choose the essential oil and the right
food coloring. Put a drop a time of oil until you are satisfied with
the scent.






EASY LUCK SALTS
2 Parts Epsom Salts
1 Part Baking Soda
1 Part Table Salt
Green Coloring
Bayberry Essential Oil

R SALTS
2 Parts Epsom Salts
1 Part Baking Soda
1 Part Salt
Blue or Lavender Color
Lilac Essential Oil

Help Salts
15 Drops Peppermint Oil
9 Drops Cinnamon Oil
10 Drops Lemon Oil
10 Drops Almond Extract
9 Drops Vanilla Extract


To Recall Dreams
10 Drops Jasmine Oil
6 Drops Lavender Oil
5 Drops Orange Oil


Personal Power Salts
10 Drops of YOUR favorite scent
8 Drops Lemon Oil
6 Drops Peppermint Oil
3 Drops Orange Oil

Air Salts
Color Yellow
3 Parts Lavender
2 Parts Rosemary
1 Part Peppermint
1 Part Bergamot Mint Bouquet


Lust Bath Salts
Color Red
3 parts Sandalwood
2 parts Patchouli
1 part Cardamon



If you would like to email me please use this addy!!
jesse109876@hotmail.com
thanks!

© Coyright By Jesse Anderson
All Rights Reserved